Will AI replace us?
That's not a question we can answer…
Can it enhance your advice proposition today?
Absolutely.
You'll have been hard pressed to avoid the conversation around ChatGPT over the last 6 months.
Since its launch back in November, this 'natural language' AI model has passed the bar, fixed complex coding bugs in a matter of seconds, and written dissertations.
News articles have predicted the end of times and BT announced last week that a vast number of customer service jobs will be replaced by the tool.
For advisers, ChatGPT fits well with hyperbole commentary around robo-advice. We've seen countless articles predicting the overhaul of financial advice as we know it.
Although an exaggerated angle, you'll be well aware that the data does demonstrate an element of truth to these claims…
More advisers are leaving the industry and less people are hiring them at a steady but certain rate.
Despite this, it's clear that there will always be a place for personable financial advice.
Whilst those who refuse to adapt will struggle, advisers that can utilise technology, like AI, to enhance the customer experience, still have a bright future to look forward to.
Central to this is learning how contemporary tools can enhance your advice proposition and boost the client experience.
From ChatGPT to compliance assisting ESG software, this blog will cover the new tools unlocking distinct potential for advisers.
What are the risks and where do the opportunities lie with this technology?
Let's find out...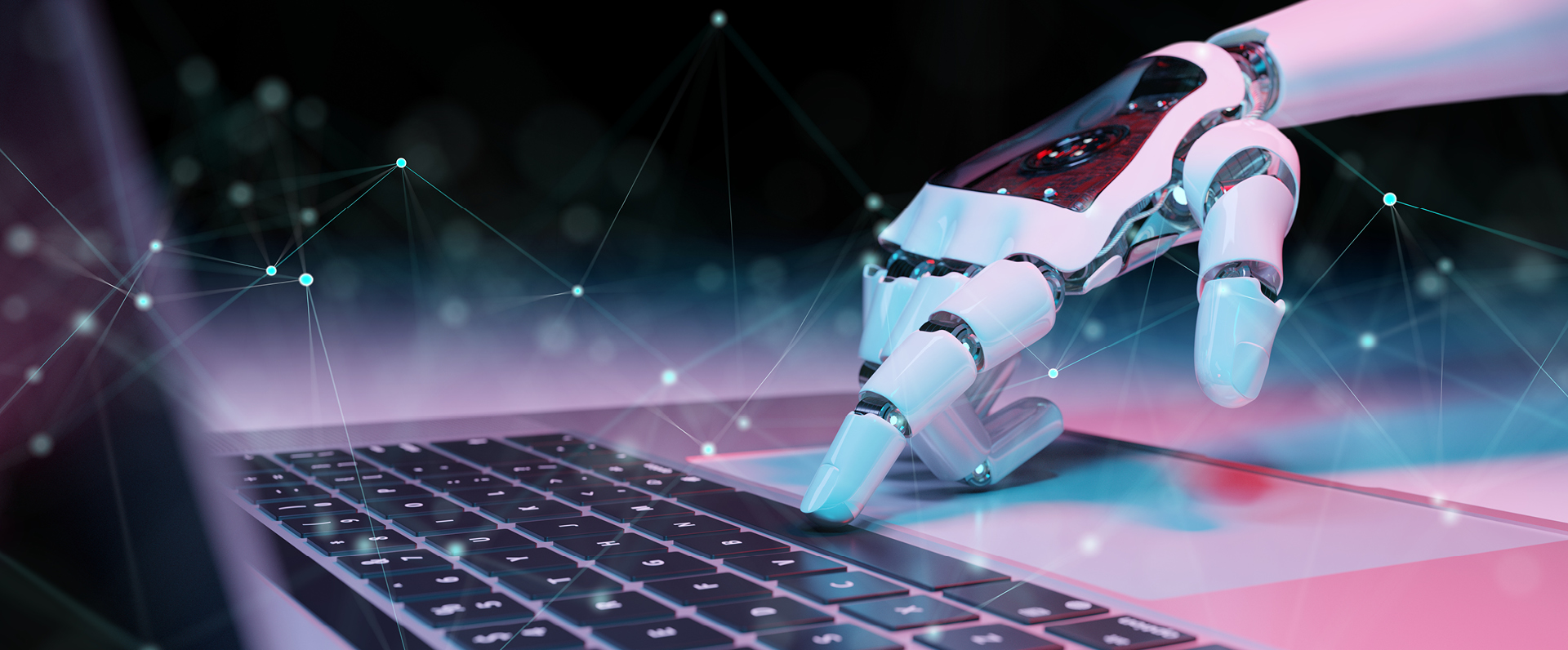 Enhancing your content and marketing efforts with ChatGPT
OpenAI, the Silicon Valley tech startup founded by Elon Musk amongst others, has made huge waves with their 3rd (+.5) iteration of ChatGPT.
We won't go over its capabilities, but it's important to note its significance.
The language model that powers ChatGPT has been fundamental to the AI tech boom we've seen over the last 6 months, with many AI businesses using ChatGPT to power their own applications.
So, for advisers, what are the uses?
We are left with in-depth analysis of both options, and a strong argument that will help guide the adviser to make a more informed decision.
Communication
With the high levels of admin and constant meetings in and out of the office amongst other time-consuming activities, many advisers struggle to find time to create communication that can A) encourage new business and B) satisfy existing clients.
ChatGPT can assist in achieving these goals in a matter of minutes.
Whether it's padding out an existing blog to include new SEO keywords to help you reach a wider audience, or helping you tailor your email marketing efforts to individual client groups, ChatGPT can enhance your content marketing enormously.
Most advisers simply don't have time to plan out a consistent content plan. Again, this is something that ChatGPT can assist with. As long as your data inputs are sufficient, you'll always get something of value out.
Away from the actual writing of content, ChatGPT can also assist advisers by acting as a feedback tool.
If you want to make a social media post more engaging but don't know how, or want to find the most effective variable of two sentences, - perhaps aimed at converting prospects on your site - ChatGPT is a great tool.
Let's walk through an example:
We start with two variations of a sentence. Both aim to convert a prospect into a corporate financial advice lead: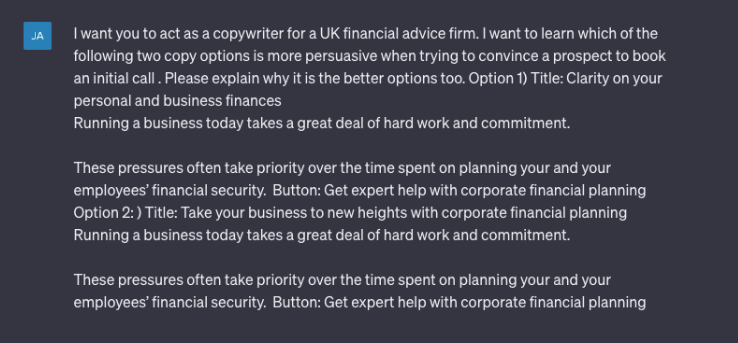 We prompt ChatGPT to A) highlight the most persuasive option and B) justify the decision.

We are left with in-depth analysis of both options, and a strong argument that will help guide the adviser to make a more informed decision.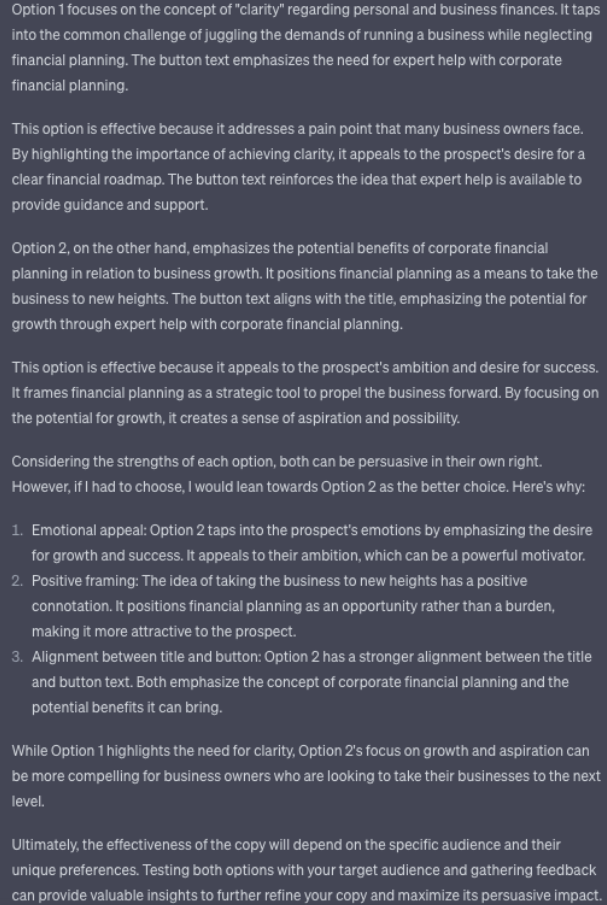 For advisers on the more cautious side of the aisle, this free tool holds value in capacity as a feedback provider, helping you to make effective decisions on the language used in marketing efforts.
ChatGPT - the dangers
As much value as ChatGPT adds, there are significant drawbacks which advisers should always consider before using the tool. The first of note is data limitation. Whilst the tool has access to a fountain of wealth, it is unable to access data past 2021, meaning that it is severely limited when writing about topics after that date. Advisers who want to reap the full rewards ChatGPT has on offer can bypass this issue by paying for their premium service, ChatGPT4 which can access data from the web with no data limitation. Advisers should be extremely cautious when using the tool to write entire blog posts, and should always ensure they cross reference facts when they come to the fore. The tool also has a propensity to write in a linear, unsurprisingly robotic tone of voice if it hasn't been directed otherwise. Without the correct prompts, you could end up with content that lacks emotion and probably bores your prospects and clients to death. With this in mind, advisers should always use the tool in more of an "assistant" capacity, using it to help with existing content efforts, rather than using it as a "one stop content shop".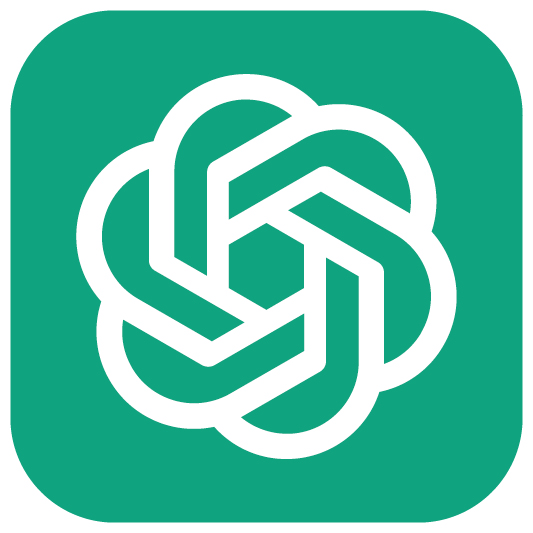 ESG software
With a rise in public consciousness around climate change and social responsibility, ESG investing has become popular for a range of different age groups.
Advisers today are being asked more and more for a sustainable approach, when investing client wealth.
AI ESG software enables financial advisers to efficiently analyse vast amounts of data related to ESG metrics, company sustainability practices, and industry trends.
By leveraging machine learning algorithms, advisers can identify and screen potential investments that align with their clients' values and risk preferences.
This data-driven approach not only saves time but also ensures more accurate and informed decision-making.
With AI ESG software, financial advisers can generate customised ESG portfolios tailored to individual client preferences.
By considering specific ESG criteria and risk-return objectives, advisers can offer personalised investment solutions that align with clients' values while meeting their financial goals.
The ability to deliver bespoke portfolios based on comprehensive ESG analysis can significantly enhance client satisfaction and build long-term trust.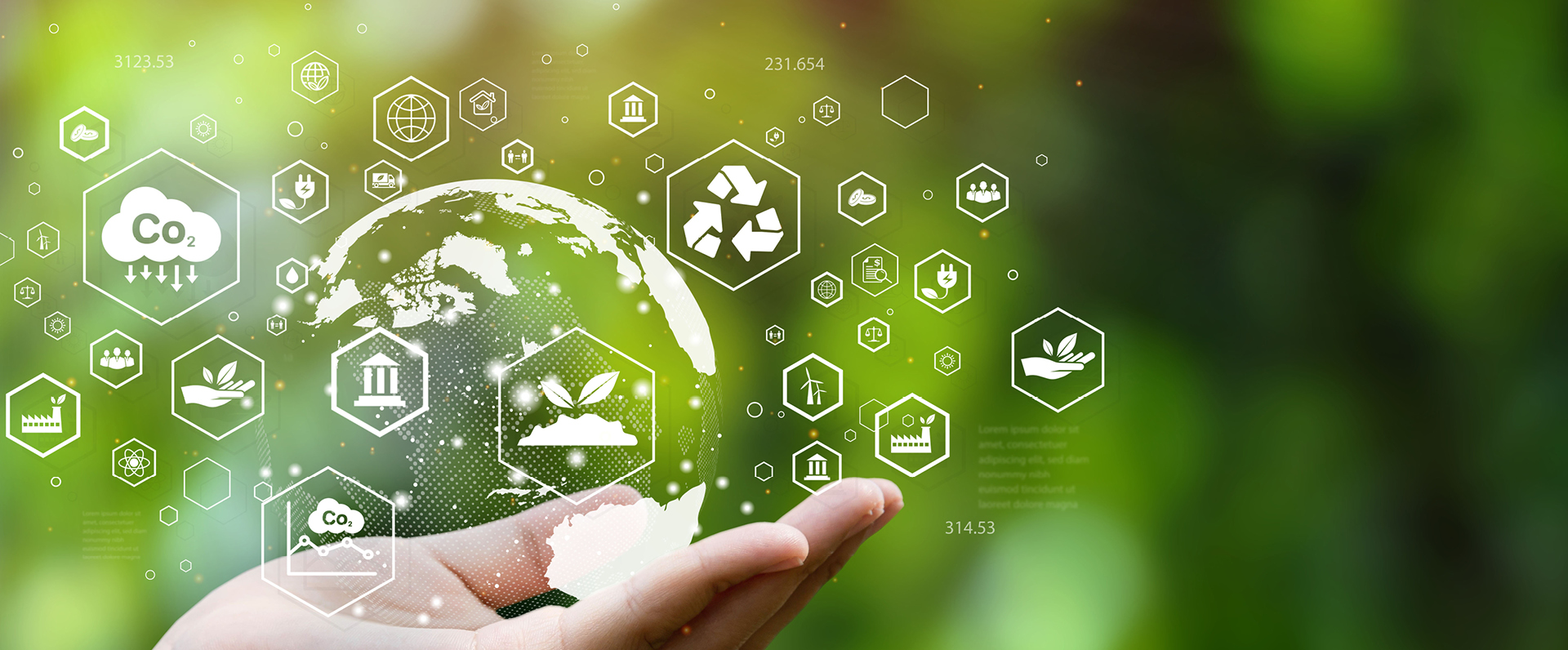 Chatbots and virtual assistants
In a digital age, where every business is expected to pick up on client grievances in seconds, customer service should be a top priority, no matter what your industry.
This reality has rarely been realised, but AI enhanced chatbots are changing things.
Chatbots that utilise AI will streamline a client or a prospect's experience on their site.
They can be used to get a visitor to the exact page they need, or retrieve essential firm contact information in a matter of seconds.
Advisers may also use technology to ensure that their value proposition is front and centre when prospects view their site for the first time.
Considering 94% of your clients want an easy user experience, utilising tools like this is sure to increase client satisfaction and boost prospect engagement. Software like Zendesk and HubSpot require almost no technical ability to install and deliver a seamless experience for your clients.
Furthermore, as these tools become more advanced, embracing this technology will become a far greater necessity against a backdrop of increasing client expectation.
Conclusion
As alarming as the headlines read, financial advisers won't be replaced by AI anytime soon.
Personable, attentive financial advice will always be in demand.
But that's no reason to put your feet up.
As the digital landscape advances further, your firm needs to ensure it's embracing the right technology to meet client demands.
Embracing AI, and the tools we've touched on today, is a great step in that direction.
Want to learn more about embracing digital and boosting client satisfaction? Read our guide on the topic here.