Our platform reduces red tape and boosts client satisfaction, adding value to your IFA online/hybrid proposition.
Your client, a 57-year-old law partner gearing up for retirement, wakes up to the sound of an iphone alarm. She walks downstairs, puts the kettle on and flicks through Twitter to catch up on current affairs. She decides where to meet her friends for dinner using WhatsApp, consulting Google Maps to get her there later.
Another client, a 74-year-old real estate executive, also wakes up. This time to the sound of a battery powered alarm clock. He makes his way downstairs, and heads straight to the broadsheet newspapers. After his board meeting, he'll go to the golf club to meet his friend at 1pm - a plan hatched over the landline last Thursday.
As different as their relationship is to technology, both the lawyer and the property executive want one thing when it comes to their financial advice... a frictionless hybrid/online service that works for them.
The real estate executive wants a hybrid service that is easy for him to navigate, and still brings a personable touch.
The lawyer wants efficiency, and a financial adviser that is accessible wherever she is.
Our Client Portal meets all demands and has been designed with your clients in mind.
Our portal is primed for easy navigation. It keeps you connected to your clients, wherever they may be in the world, with communication features that ensure your online service is personable and efficient. Our Client Portal won't just make your clients' lives easier (whatever their demands are), but will also streamline processes and add value to your service.
Too good to be true? Let us show you how it works
A platform that increases your efficiency
We know from experience that the cat and mouse chase for your client's co-operation can bring your workflow to a halt, decreasing efficiency and impacting revenue.
To combat this problem, we designed the Client Portal to ensure that your client can edit personal information, upload ID, assess financial goals and view the terms of their options all in one place.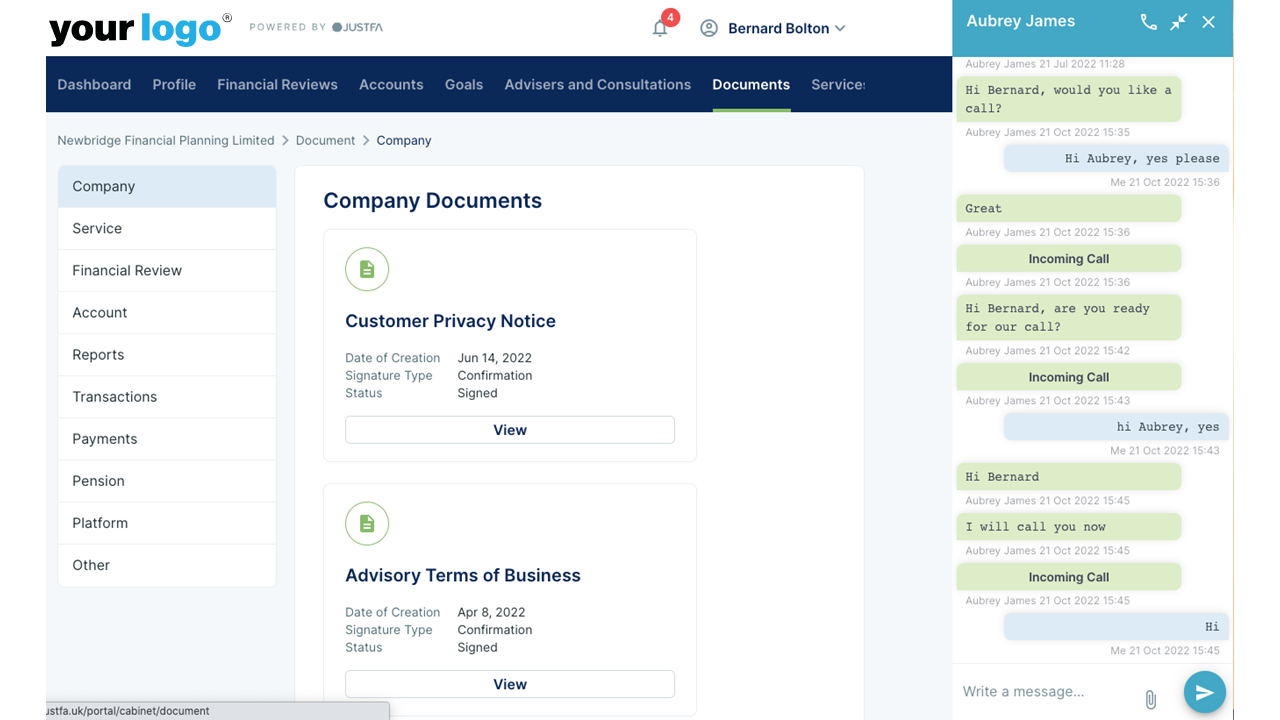 Our "sign by click" feature allows your client to securely agree terms on sensitive documents with just the click of a button, dramatically reducing the time it takes to get things moving.
No more fretting about your contract ending up at the bottom of your client's untouched mail pile!
Our system allows your branding to assimilate onto the Client Portal, making our platform appear as a sophisticated extension of your own website.
We give your clients a simple, yet effective system that can be easily navigated by all. No longer will varied weblinks confuse your clients and you can forget about the never-ending paperchase with customers.
The ultimate communication feature
In an age dominated by robo-advisers and almost instant access to financial advice, your clients need seamless access to your services. Our in-platform communication feature makes this a reality.
As well as increasing your efficiency by reducing paperwork and processes, our Client Portal ensures that the same place your client can view their ISA position is the same place they can communicate with their adviser.
Our Client Portal uses video, chat and audio features to keep clients connected to advisers.
If you're seeking a call with a client, simply check the active status of the intended recipient and reach out.
No need to record or take notes of your video call for compliance, either. Our system records call notes and saves them automatically to your client file, ensuring that you can spend your time on more valuable activities.
This streamline communication tool is yet another example of how the JustFA platform reduces the hoops advisers have to jump through to maximise value for their clients. Giving them instant access to client conversations, and giving clients instant access to their advisers, wherever they may be in the world.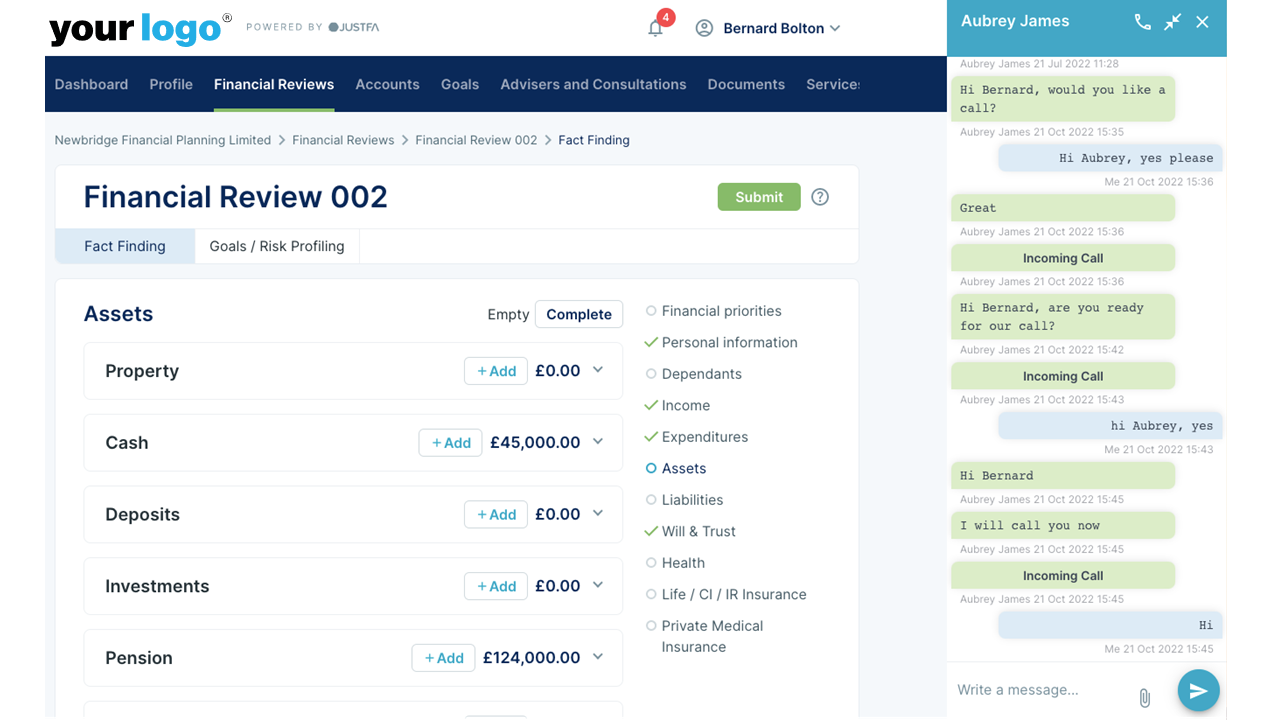 A client portal that makes everyone a winner
By combining usability with a litany of features that keep you connected to your clients, our platform keeps everyone happy, tech savvy or not.
By decreasing paperwork, and the hoops your clients have to jump through to get their positions in motion, our platform increases efficiency and adds real value to your service, making every stakeholder a winner.
Worried your less tech savvy clients might struggle with our platform? See just how easy it is to use and book a demo here.